---
Spring cleaning with PKP CARGO INTERNATIONAL in Silesian Ostrava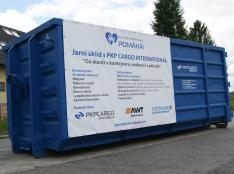 3.6.2020
The PKP CARGO INTERNATIONAL transport company (formerly AWT) and its subsidiary AWT Rekultivace, both members of the PKP CARGO Group, the leading logistics operator in Europe, will join forces with the town hall of the Slezská Ostrava city district to place large-volume ACTS containers in a total of nine selected locations for local inhabitants to use for their spring cleaning, all part of the company's CSR project PKP CARGO INTERNATIONAL HELPS!
The PKP CARGO INTERNATIONAL Group puts great emphasis on social responsibility, and as part of its PKP CARGO INTERNATIONAL HELPS! project it supports activities, projects, events, non-profit organizations, individuals and socially beneficial activities that have an impact on all the regions where it operates.
Through PKP CARGO INTERNATIONAL HELPS! the Group provides help wherever it is needed. Every year employees organize a fundraiser for their colleagues and close family members in difficult life situations, charitable clothing collections, and on Children's Day employees cheer up children in hospitals and children's homes. At the same time, employees jointly participate in various charitable projects and activities.
"We are continuing last year's successful action and again teaming up with the town hall of the Silesian Ostrava city district for our CSR project to help the inhabitants of Silesian Ostrava with their spring cleaning. The town hall has selected a total of nine places for us to put our large-volume ACTS containers to be used for waste collection. Social responsibility is very important to us here at PKP CARGO INTERNATIONAL and we pay great attention to protecting nature," says Maciej Walczyk, Chairman of the Board of Directors of PKP CARGO INTERNATIONAL.
PKP CARGO INTERNATIONAL is the largest operator of the ACTS system in Central Europe and the only one in the Czech Republic. The ACTS system consists of special rolling containers, road haulers and railway cars with rotating frames for containers. AWT has more than 400 ACTS containers of various types, 79 railway cars of the Slps type, and a dozen road haulers and lifters.
"We have years of experience with ACTS containers and use them in combined transport (road-rail) to move a variety of materials. We can also use them for these purposes which, thanks to our comprehensive services, allows us to dispose of waste ecologically," adds Maciej Walczyk.
It is possible to throw furniture, carpets and textiles, building rubble, windows and doors, tar-free shingles and bathroom ceramics into the container. The waste will then be disposed of in a landfill operated by the subsidiary AWT Rekultivace.
"These activities are an important part of our broad portfolio of services and we have extensive experience going back years with disposing of environmental liabilities, with operating landfills, and with decontamination and recycling. We are glad that our CSR event this year fits our company slogan – Back to Clean Nature – and we can help both the people of Ostrava and nature," says Kamil Holenda, Chairman of the Board of Directors of AWT Rekultivace.
City residents can find a list of the places where the containers will be located on the websites of the Silesian Ostrava city district and the PKP CARGO INTERNATIONAL Group.
Photo: Maciej Walczyk, Chairman of the Board of Diresctors of PKP CARGO INTERNATIONAL (middle right) and Richard Vereš, Mayor of the Silesian Ostrava District (middle left)
Lukáš Kresač
Spokesperson
PKP CARGO INTERNATIONAL Group